What are office coffee services, and how can they be used to improve the environment of your company? First, let's start with the benefits of a coffee service. Providing coffee in the office is a convenient way to improve employee productivity.
In a 2009 survey from the University of Bielefeld,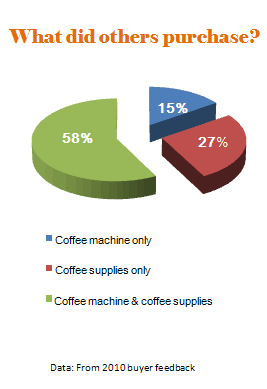 it showed that a break environment with specialty beverages encouraged communication and relaxation in the workplace. Basically, when employees are happy in their downtime and satisfied in their coffee breaks, their work time becomes even more productive as a result. Below is an overview of what you can get with an office coffee service plan, and who you can order from.
Also check out what other companies are looking for in a coffee service.
Coffee beans & coffee machines
Office coffee services are provided by coffee service companies. Each company will offer diverse packages available for machines, vending, and delivery of supplies. But don't worry if you don't need all three — if you take a look at the graphic to the right, you'll see that 27% of our past buyers purchased coffee supplies only, and 15% required only a coffee machine. However, the vast majority chose to purchase both a coffee machine and supplies. And some companies even got a free coffee machine such as non-gourmet and national brands of coffees.
Depending upon the size of your office, such popular brands as Starbucks, Seattle's Best, Alterra Coffee Roasters, Green Mountain Coffee Roasters, Timothy's Coffee, Dunkin' Donuts, Cory Coffee, and Global Blends Coffee may be available for delivery. If you'd like to stick with the basics, most service companies offer cheaper coffees such as non-gourmet and national brands of coffees.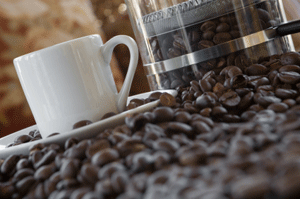 For small or home offices, coffee suppliers will often offer single cup brewing with break room supply delivery as the top option. The most popular single cup brewing system on the market is the Keurig OfficePRO, designed for small offices of less than 20 employees.
The Keurig OfficePRO is intended to be used with K Cups, which are individual coffee pods that come in a variety of flavors and roasts. The flavored pods are inserted individually into the Keurig brewer, where they are punctured and brewed with hot water to make a single, fresh cup in moments. This is the ideal brewing system for a smaller office environment to prevent a large pot of coffee from going to waste.
Who offers office coffee services?
The following are a few well-known companies that specialize in office coffee services.
ARAMARK: Offers a diverse selection of top coffee brands for delivery and vending. Their brew systems range from small, single cup brewing with the Keurig to multi-pot Curtis brew systems for large company usage.
Standard: Standard provides small and large office coffee service solutions. Standard offers premium water filtration for a fresher taste, and their service options range from single cup brewing for small offices to traditional batch brewing for larger companies.
Canteen: Canteen offers a wide range of brands in their coffee service, including Starbucks, Dunkin' Donuts, Peet's, and Lavazza. Their brewing options range from small single cup brewers to air pot or glass pot brewers intended for larger offices.
Filter Fresh: Filter Fresh offers brew solutions for small, medium, and large offices with brands like Van Houtte, Starbucks, Wolfgang Puck, Flavia, and more. Brewing options range from small, single cup Keurig brewers to larger latte vending machines.
Next: Choosing a coffee delivery service
What others are looking for
"We are looking for a pay per cup coffee machine only."
– Business Services, Hastings, NE
"We are only interested in an automatic coffee brewer with thermal servers."
– Administrative Assistant, Government, Lapeer, MI
"Please quotes us on coffee, tea, and water service for a retail store."
– Other, Retail, Lancaster, PA
"Please provide price quote for single-cup coffee system. Also a water filteration system (is there a coffee machine that can also provide hot/ice cold water?) Do you work with any snack & beverage vending machine vendors who do servicing and restocking on an as-needed basis?"
– Business Services, Hastings, NE
"We have a Keurig coffee machine and I am looking for prices for single cup coffee for about 20 people… and lots of coffee drinkers."
– Sales/Business Development, Manufacturing, Spokane, WA
"I want to know how much it would be for Starbucks!  If it's reasonable, I'll get it."
– Purchasing Manager, Insurance, Hartford, CT
"Please give a price quote on delivery of Folgers Colombian, 42 packages, 6 packages a week each week."
– General Manager, Transportation/Logistics, Newark, NJ
"We need a two pot brewer, 5″ plastic stir strips, Eight O'clock or Maxwell coffee,  Splenda packets and sugar canisters."
– Office Manager, Health Care, West Columbia, SC