The best business coffee machines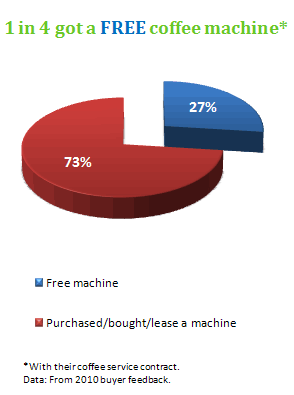 Today's business coffee machines range from the traditional multi-pot commercial brewer to gourmet single cup brewers that allow employees to brew the perfect cup of their favorite coffee. Instead of worrying about messy brewing on a day-to-day basis, business coffee machines are available for single cup brewing or large vending purposes, virtually eliminating cleaning,
maintenance, and wasted coffee each day.
View coffee machine prices
Sometimes, a business coffee machine can be free with a service plan. In fact, 1 in 4 of our buyers got their machine for free in 2010 (see the graphic to the right.)
Single coffee brewers
Keurig and FLAVIA single cup coffee machines are offered by companies like Standard Coffee Company and ARAMARK. Find out more about all the different single cup coffee brewers that are perfect for the office, available from most coffee service companies.
Keurig is a popular single cup brewing system ideal for companies of any size, although it is often preferable to smaller offices. Keurig machines brew with individual K-Cup pods that come in over 200 coffee and tea flavors. FLAVIA single cup machines also brew a selection of over 30 individual drinks that include gourmet coffee and tea beverages. Additionally, FLAVIA brews individual espresso beverages, like lattes and cappuccinos, cup by cup.
Multi-pot brewers
For medium to large offices seeking traditional business machines, air pot and glass pot brewers are often the best choice.
Air pot brewers offer an added convenience since fresh coffee is brewed directly into an air pot, which is sealed to maintain freshness for up to four hours at a time. This prevents wasted or stale coffee from sitting out in the breakroom. Air pots can also be conveniently moved to other locations, such as a conference room or front lobby, which is ideal for an office that needs to serve the needs of visitors, clients, and customers.
Coffee vending machines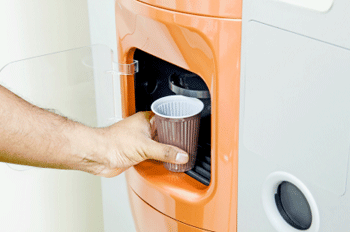 For a larger company looking for diverse, customizable coffee choices with the opportunity for coin operation, a coffee vending machine is often the ideal solution. These business machines offer both coffee and espresso selections to brew traditional and specialty coffee within seconds.
Coffee vending machines provide a wide range of features, such as fresh grind and brew, electronic mug sensor, automatic cup dispenser, and regular or specialty brewing options.
Next: Single cup coffee brewers
WE ASKED: What did your coffee machine cost?
"We pay $112.00 for the coffee, machine, filters, and maintenance." – Los Angeles, CA
"It cost us about $400 for the first order."
– Dallas, TX
"Only needed to pay for coffee – all equipment was supplied for free."
– San Diego, CA
"Prices we paid: Folgers $35/box, water $5.50/bottle, cooler rental $8."
– Orinda, CA
"We purchased a water cooler service at about $35/month, with four filter changes per year. We also purchased a coffee service with a large first order but were given a $250 coupon plus a $50 coupon for the next 10 orders."
– Atlanta, GA
"I purchased a single cup Keurig machine."
– Crown Point, IN
"Water & coffee/tea services cost us $200-$300 each month for about 20 employees."
– San Jose, CA
"$285 for coffee & the Keurig Brewing System B155. We get 4 boxes of K-cups, 24 count."
– Tempe, AZ
"We got the Select Brewer Singles Machine from ProStar, there is no rental amount on the machine – we only have to buy the supplies we need like coffee, creamer, sugar etc. It's a great machine "
– Houston, TX
"$75 monthly lease, $100 monthly for coffee and supplies."
– Saint Louis, MO
"$25.95 per case of Columbian coffee, a 30 pack of beans."
– West Palm Beach, FL
"Keurig equipment – free supplies with first order – equipment lease fee waived."
– Lombard, IL
"$75 monthly fee for the coffee machine. Estimate $50/month for coffee. Do not yet know about supplies and other options."
– San Jose, CA
"Green Mountain Single cup pack. "
– Bohemia, NY
"The equipment is free. There is no contract to sign. The coffee products are priced about the same as other coffee services."
– Birmingham, AL
"Our machine rental was free which is a huge savings for our office. We need to buy our coffee from them, at $11.25/box. We will be saving $50/month by not paying for renting a coffee machine."
– Waltham, MA