How to choose a coffee delivery service
It's a given that every office needs coffee in their break room. But why would an office choose to use a coffee delivery service instead of sending out a secretary or assistant to buy the supplies? First, a delivery service provides a great advantage in offering a variety of coffee brands, brewing systems, break room accessories, and related beverages, like teas and hot chocolate.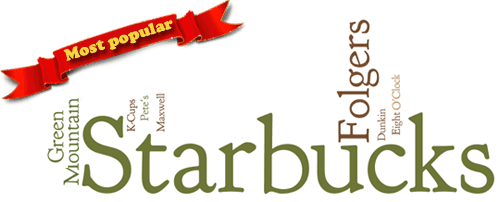 See more of what's popular with our buyers
What's included with the coffee delivery?
Coffee beans/Pre-ground coffee: With most coffee service companies, you can choose from a wide variety of brands. If you prefer to grind your coffee fresh, whole coffee beans can also be ordered. Otherwise, many delivery services offer portion controlled packages of pre-ground coffee for convenient brewing. Most companies today also offer major brands of K-Cups for single serve machines from Keurig and FLAVIA.
Cream and sugar: Since most coffee drinkers prefer to add cream and sugar to their coffee instead of drinking it black, these extras are essential in a delivery service package. Most coffee service companies will offer assorted brand name sweeteners and creamers in each delivery package.
Beverage alternatives: For the non-coffee drinkers in your office, most companies also provide beverage alternatives like tea, hot chocolate, and water.
Break room supplies: Instead of having to send out an employee to purchase break room supplies, items like cups, napkins, straws, and coffee stirrers can also be delivered with your coffee supplies. Some service companies may also include bowls, plates, paper towels, and plastic utensils with their delivery service.
Coffee brewer and other equipment: As needed. A coffee delivery service can provide a business coffee machine if your company lacks one.
Popular coffee delivery companies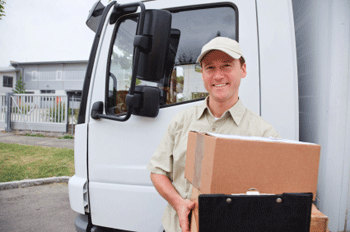 Here are several of the top brands that provide the coffee service features listed above.
Aramark: Offers gourmet and basic blends of coffee, cream, sugar, eco-friendly paper cups, tea, hot cocoa, bottled water, soda, juice, snacks, and disposable break room supplies as a part of their delivery service packages. Also delivers K-Cups in a variety of brands and flavors.
Canteen: Offers a wide selection of coffee brands, soda, juice, bottled water, energy drinks, tea, hot cocoa, snacks, breakfast foods, cream, sugar, condiments, paper cups, paper plates, bowls, utensils, napkins, and even cleaning products.
Standard Coffee Service: Offers coffee, tea, hot cocoa, cream, sweetener, juice, bottled water, cold beverages, instant soup, paper cups and sleeves, coffee stirrers, paper plates, plastic silverware, napkins, and cleaning products. Also delivers K-Cups in a wide range of flavors and brands.
Using a delivery service for coffee supplies can provide both cost and time savings for a small, medium, or large company. Get rates on a coffee delivery service for your office from ARAMARK, Canteen, Standard, and more coffee service companies.
Next: The best business coffee machines
The most popular brands of coffee
"Folgers brand coffee is required."
– Office Manager, Consulting, Kansas City, MO
"Please give a price quote on delivery of Folgers Colombian, 42 packages, 6 packages a week each week."
–  General Manager, Transportation/Logistics, newark, NJ
"We want Folgers filter packs that brew 10 to 12 cups, both regular and decaf."
– Consultant, Non-Profit, Dallas, TX
"Folgers grounds and all the options for a new machine. Ours is from 30 years ago and needs an upgrade."
– Other, Financial Services, Atlanta, GA
"Starbucks or Dunkin Donut coffee and hot chocolate, Cappucino, etc. Need price quotes. Also need flavored creams in little cup form."
– CEO/President/Owner, Retail, Columbia, SC
"I want to know how much it would be for Starbucks! If it's reasonable, I'l get it."
– Purchasing Manager, Insurance, Hartford, CT
"I'm just looking for a nice espresso machine to sell specialty coffees. Nothing big or a huge amount of money. This is a new business and I would like to try out possible coffees like at Starbucks."
– CEO/President/Owner, Restaurant, Dry Ridge, KY
"Green Mountain coffees only."
– Accounting/Finance, Computers – Software, Boyertown, PA
"Starbucks coffee only."
– Office Manager, Real Estate, Los Angeles, CA
"We want a price on the Starbucks Interactive Cup Brewer."
– Office Manager, Real Estate, Augusta, GA
"We are interested in having a supply of Green Mountain K-Cups & tea."
– Accounting/Finance, Wholesale, Bohemia, NY
"We would like an air pot coffee pot. We are looking for the Starbucks brand as the employees seem to like strong coffee. Also we only have 5 employees in the office. Since we have so few employees in the office I would like a service where there is not a minimum to purchase."
– Accounting/Finance, Other Business Services, Bothell, WA
"We are currently using and love our Starbucks machines; they grind and make one cup and up to one full caraf at a time. It also will let you make hot chocolate. So in a nut shell, we are looking for quotes on the coffee delivery, snack and pop machines and water filtration systems. We also have Keurig brewers in our conference rooms."
– Other, Legal, Cleveland, OH
"Interested in the Starbucks grind and brew system and a tea machine."
– Engineer/Programmer, Construction/General Contracting, Arlington, VA
"Other departments have Starbucks. Are there other coffee businesses, such as Biggby that also do this type of service?"
– Administrative Assistant, Advertising/Marketing/PR, Ada, MI
"We are looking for a Starbucks kiosk or something similar that can be advertised as a draw for customers to purchase coffee. "
– CEO/President/Owner, Retail, Saint Louis, MO
"We are looking for Cains Coffee. "
– CEO/President/Owner, Transportation/Logistics, Elsa, TX
"We would like Pete's coffee or something of equivalent quality, as well as hazelnut coffee."
– Receptionist, Insurance, Phoenix, AZ
"We need a two pot brewer, 5″ plastic stir strips, Eight O'clock or Maxwell coffee, Splenda packets and sugar canisters."
– Office Manager, Health Care, West Columbia, SC